Style, Good Looks and Complete Protection.
Free in home measure & quote – City, all suburbs & country
Life in your outdoor areas should be about taking it easy – not fussing with blinds. So relax, because Country have taken the stress out of shade control with Ziptrak Outdoor shade blinds.  Our Ziptraks are quick and simple to use with no cords, zippers or buckles and definitely no gaps.
Ziptrak blind systems are manufactured by our team right here in South Australia. What this means for you is direct quality control and reliable delivery times. There are no hold ups and no middle man mark-ups either, so you can enjoy factory direct value and a 5-year warranty backed by a business based in South Australia.
The Ziptrak blind system's slotted tracks are designed to provide easy and seamless adjustment as well as simple locking in the 'down' position to help you cope with glare, heavy rain or high winds. Forget all the wrinkles, rolls, flapping and fuss. Ziptrak outdoor blinds are simple, streamlined and clean. What's more, you can make life even easier by choosing Country's motorised option.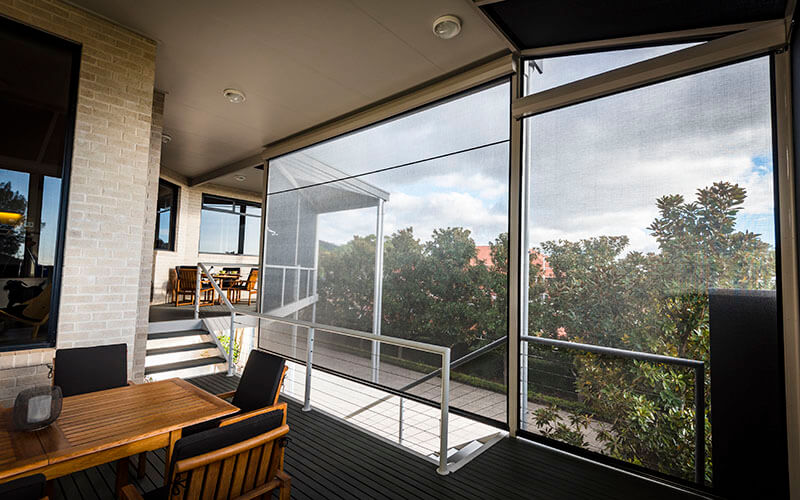 The Ziptrak look is streamlined and clean, with no slack, no 'flapping' and no fuss above all. It really is your fast track into an outdoor living area you'll love relaxing in.
Double splines and a weld of difference
We've invested in the finest technology from Germany and the U.S.A so that we can incorporate fully fabric-welded construction into our Ziptrak blinds. Stitching can break down in sunlight or rot when exposed to moisture – welding stays as strong as the parent material.
Manufactured on a computer-controlled cutting table, our blinds are cut precisely to the millimetre. Patented side-spline technology, welded on both sides, is made using UV-stabilised material that won't fail or fade. Our continuous splines cannot get stuck or break like a spiral zipper can, so you can expect years of reliable operation without old-fashioned zipper frustration.
Spring action, easy locking and complete convenience
Ziptraks are operated using a neat, simple spring mechanism – no crank handles. With the blind lowered, a middle lock means you can easily lock and unlock the blind from the centre, without crossing to the other side like old-fashioned designs, so you can raise it in no time.
A better-looking blind with more options open to you
Blinds should look great however you use them. Ziptraks by Country have fabric extending from the top roller to the bottom bar without any coloured spline, so there's no chance of a broken line at eye level when blinds are left partially down.
'Reducers' on the top tube mean less build-up of the spline at the edge of the blind, so the appearance is always flat, neat and streamlined. Our Ziptraks can be left part way open with no need to use locks – the spring-balanced system takes care of everything.
Wider and neater
We make our own Ziptraks, and our access to super-wide fabrics means we can create even the widest blinds with no unsightly joins. Colour-coded fixings, right down to the rivets, deliver a professional finish to the last detail, and protect against corrosion, too.
Motorisation and remote control
Same beautiful look, even less effort! At Country, we can custom build motorisation and remote control into your Panel Blinds – wall-mounted, hand-held or smartphone actuated. Find out more today.
Let's make it outdoors!
So many South Australian homes have outdoor space that could become an amazing outdoor room – an extra living area for relaxing or entertaining, summer or winter. Trust Country Blinds to create new space with imagination and Ziptrak Blinds, café blinds, straight drop mesh blinds…the options are endless. Request a quote from Country today and let's make it for you now!
Ziptrak 5-Year Warranty
Peace of mind is an extended 5-year limited warranty as standard provided by people who design, manufacture and install the products they sell for over 30 years. Every product carries Country's exclusive 5-year limited warranty and so if you ever have an issue, resolving it is as easy as calling us on 1300 303 299.